Explore the Top 5 Stylish Customize Durga Puja T-shirt:
Durga Puja is not just a religious festival; it's a grand celebration of art, culture, and festivals. As the streets of Bangladesh come alive with vibrant colors, music, and festivities, fashion takes center stage. It's the time when festivals and trendsetters showcase their style through traditional and contemporary outfits. While sarees and ethnic wear dominate the scene, there's a rising trend of incorporating customized t-shirts into Durga Puja festival. These t-shirts offer a unique and modern twist to traditional attire, making them a must-have for anyone looking to stand out during this auspicious occasion. In this blog post, we'll explore the top 5 stylish customized t-shirts for the Durga Puja festival.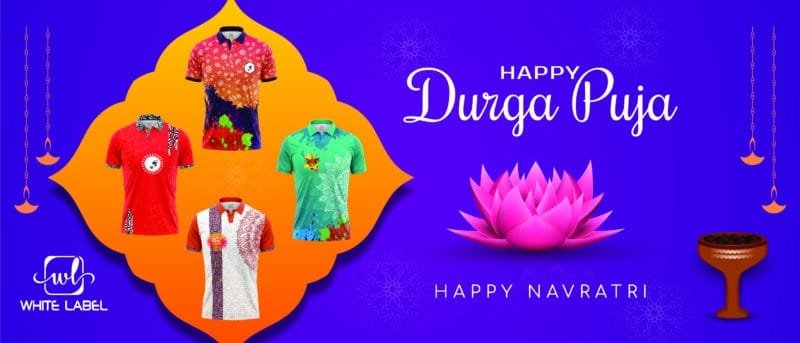 Graphic Goddess Durga Print T-Shirt:
One of the most popular choices for Durga Puja festival is a graphic t-shirt featuring an artistic depiction of Goddess Durga. These t-shirts often showcase intricate details of the goddess in vibrant colors, adding a modern touch to the traditional representation. You can pair this t-shirt with a flowing skirt or palazzo pants for a fusion look that seamlessly blends tradition with contemporary style.
Personalized Name T-Shirts:
Personalized name t-shirts are a fantastic way to add a personal touch to your Durga Puja attire. You can have your name or a special message printed in beautiful fonts and colors. These t-shirts are versatile and can be paired with jeans, leggings, or even a saree blouse for a unique and trendy look. They not only make you feel special but also serve as a great souvenir from the festival.
Bengali Typography T-Shirt:
For those who want to celebrate their Bengali heritage, Bengali typography t-shirts are an excellent choice. These t-shirts feature meaningful Bengali words or phrases related to Durga Puja or the festivities. They are simple yet elegant and can be paired with traditional Bengali attire like a saree or a kurta for a culturally rich all at once.
Durga Puja Theme T-Shirts:
Durga Puja theme t-shirts are designed specifically for this festival, incorporating elements like dhak (traditional drum), dhunuchi (incense burner), and pandal (festive structure). These t-shirts capture the essence of Durga Puja and are a great way to showcase your passion for the festival. Pair them with jeans or shorts for a casual yet festive look.
Maa Durga Quote T-Shirts:
Maa Durga puja t-shirts quote feature inspiring quotes and messages dedicated to Goddess Durga. These quotes often convey the strength, courage, and devotion associated with the goddess. Wearing one of these t-shirts not only makes a fashion statement but also serves as a reminder of the intangible significance of Durga Puja.
Conclusion of Top 5 Stylish Customize T-Shirts for Durga Puja Festival:
In conclusion, Durga Puja is a time to celebrate tradition and style, and customized durga puja t-shirts design offer the perfect blend of both. Whether you opt for a graphic print, a personalized name t-shirt, Bengali typography, a themed design, or a quote t-shirt, these stylish options allow you to express your individuality while paying homage to this sacred festival. So, this durga puja t-shirt design, don't hesitate to add a dash of modernity to your traditional attire with these top 5 stylish customized durga puja t-shirt design. Your fashion-forward approach will undoubtedly turn heads and make you a stylist at the festivities.